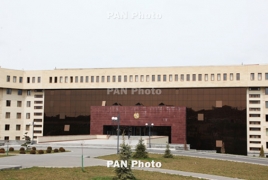 June 5, 2021 - 14:27 AMT
PanARMENIAN.Net - The Defense Ministry on Saturday, June 5 admitted that the Azerbaijani forces had attempted to carry out engineering work on the territory of Armenia but said the Azeris were forced to stop after the actions of the Armenian side.
The statement from Defense Ministry comes in response to reports, including from a town chief in the Gegharkunik province, that the Azerbaijanis have been carrying out engineering work with the use of special equipment and building roads connecting their positions. Head of Verin Shorzha community Artyom Yeranosyan said Friday that Azerbaijan's positions are situated close to the pastures of border villages, which means locals can't graze the animals in their usual places and have to take them to other villages.
The Armenian Defense Ministry said the Azeris attempted to carry out "some development work" but warning shots from the Armenian Armed Forces made them stop.
"The Azerbaijani side has been demanded to refrain from such attempts," the Defense Ministry said.
"However, the Azerbaijani side continues to carry out engineering and fortification works in areas where their military is stationed, without crossing the border of the Republic of Armenia. As the movement in these areas by the Azerbaijani military is visible from the villages of Upper Shorzha and Kut in Gegharkunik province, this fact has raised the concern of the local population, which is reflected in the Ombudsman's report."
Human Rights Defender Arman Tatoyan said on Friday that Azerbaijani troops who have violated the Armenian border in Gegharkunik have been stopping villagers, making them explain where they are going and what they are doing, threatening them and trying to search their cars. Tatoyan said the Azerbaijani soldiers also swear at shepherds, shout at them, block the villagers' access to drinking and irrigation water resources.
On the morning of May 12, the armed forces of Azerbaijan violated the border of Armenia in the southern province of Syunik, advancing 3.5 kilometers and surrounding Sev Lake, which is situated on the border between the two countries but is predominantly a part of Armenia. On May 13, the Azerbaijani military committed more border violations against Armenia, advancing near Vardenis (Gegharkunik province) and Sisian (Syunik province). One Armenian serviceman was killed in Azerbaijan's shooting on May 25, while six others were captured on May 27.