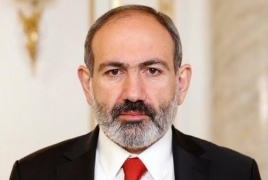 June 9, 2021 - 11:28 AMT
PanARMENIAN.Net - Acting Prime Minister Nikol Pashinyan is ready to exchange his son Ashot for all the Armenians captured by Azerbaijan during and after the end of the war in Nagorno-Karabakh. Pashinyan made the remarks in response to criticism from the country's ex-President Serzh Sargsyan.
Sargsyan offered Pashinyan to exchange his son for the captives, maintaining that only then would Pashinyan be dealing with the issue of the return of Armenian prisoners of war on a daily basis.
"I officially say to [President of Azerbaijan Ilham] Aliyev: I offer my son in exchange for all the prisoners of war," Pashinyan said, adding that he will be waiting for Baku's reaction.
So far, more than 70 Armenian PoWs have returned home. Azerbaijani President Ilham Aliyev claims that persons still being kept in Baku are not prisoners of war but "terrorists and saboteurs". Officials and human rights advocates from the Armenian side, however, maintain Azerbaijan is still holding hundreds of people hostage, pledging to submit evidence proving the capture of said persons to international agencies and courts. At least 19 of the hundreds of Armenian captives have been tortured and killed,, according to the defenders of the rights of Armenian captives in the European Court of Human Rights, Artak Zeynalyan and Siranush Sahakyan. Four of them were women.