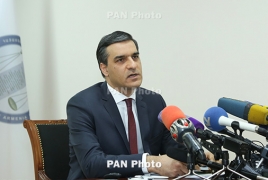 June 9, 2021 - 14:52 AMT
PanARMENIAN.Net - Speculations on the return of Armenian captives illegally being held in Azerbaijan during the election campaign are unacceptable, Human Rights Defender Arman Tatoyan said in a statement on Wednesday, July 9.
Tatoyan's comments came amid growing tensions in Armenian politics, as acting Prime Minister Nikol Pashinyan and ex-President Serzh Sargsyan traded insults over the country's failure to have Azerbaijan release the prisoners of war and other detainees.
Sargsyan offered Pashinyan to exchange his son for the captives, maintaining that only then would Pashinyan be dealing with the issue of the return of Armenian prisoners of war on a daily basis. Pashinyan responded that he is ready to exchange his son Ashot for all the Armenians captured by Azerbaijan during and after the end of the war in Nagorno-Karabakh.
The Human Rights Defender slammed conversations about exchanging prisoners of war with other people.
"Obviously, no such thing can happen, and speculations only increase the tension in the country, make the return of the captives more difficult, thus simply raising the "price" for the release of the captives by the Azerbaijani authorities," Tatoyan said.
"And, of course, it is overtly disrespectful to the captives and their families, and their feelings. Therefore, I demand everyone completely stop manipulating the return of the PoWs."