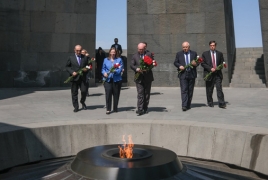 June 10, 2021 - 18:11 AMT
PanARMENIAN.Net - Acting U.S. Assistant Secretary of State for European and Eurasian Affairs Philip T. Reeker on Thursday, June 10 visited the Armenian Genocide memorial in Yerevan, the U.S. Embassy in Armenia reports.
Reeker paid his respects at Tsitsernakaberd with a wreath bearing the inscription, "From the American People," in remembrance of the lives of all those who died during the Armenian Genocide.
In a statement published on the website of the White House, Biden made good on a campaign promise and became the first American President to use the term "Genocide" on the April 24 Remembrance Day to describe the massacre of 1.5 million Armenians in the Ottoman Empire between 1915 and 1923.
On April 24, 1915, a large group of Armenian intellectuals was rounded up and assassinated in Constantinople by the Ottoman government. On April 24, Armenians worldwide commemorated the 106th anniversary of the Genocide which continued until 1923. Some three dozen countries, hundreds of local government bodies and international organizations have so far recognized the killings of 1.5 million Armenians as Genocide. Turkey denies to this day.