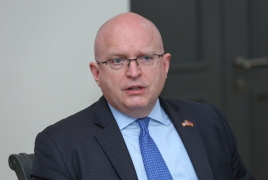 June 11, 2021 - 11:25 AMT
PanARMENIAN.Net - The United States reiterated Thursday, June 10 the need for Azerbaijan to withdraw its forces from the Armenian territories and return to its positions from May 11.
Philip Reeker, the acting U.S. assistant secretary of state for European and Eurasian affairs, made the remarks at a meeting with high-level foreign ministry personnel. During the meeting, special attention was paid to the settlement of the Nagorno Karabakh conflict, the necessity for an immediate return of Armenian prisoners of war and civilian detainees, as well as the situation created by the penetration of the Azerbaijani forces into Armenia's sovereign territory.
On the morning of May 12, the armed forces of Azerbaijan violated the border of Armenia in the southern province of Syunik, advancing 3.5 kilometers and surrounding Sev Lake, which is situated on the border between the two countries but is predominantly a part of Armenia. On May 13, the Azerbaijani military committed more border violations against Armenia, advancing near Vardenis (Gegharkunik province) and Sisian (Syunik province). One Armenian serviceman was killed in Azerbaijan's shooting on May 25, six troops were captured on May 27.
Reeker emphasized the need to ease tensions along the Armenia-Azerbaijan border, the Armenian Foreign Ministry reports.
After his meetings, Reeker told the Armenian Service of RFE/RL that the need for the pullback of troops to May 11 positions was essential for preventing shootouts and other violent incidents at border sections where Armenian and Azerbaijani soldiers have been facing off against each other for the past month. He said that should be followed by a demarcation of the long and mountainous frontier, adding that Washington is ready to provide "technical expertise" for that purpose.
In a May 27 statement, the State Department urged both sides to "return to their previous positions and cease military fortification of the non-demarcated border." This followed a statement by a State Department spokeswoman who said at the time that Baku should "pull back all forces immediately and cease further provocation."