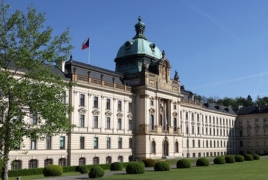 June 11, 2021 - 14:11 AMT
PanARMENIAN.Net - The Chamber of Deputies of the Czech Republic on Thursday, June 10 approved a resolution calling for Azerbaijan's immediate and unconditional release of all Armenian military and civilian prisoners of war captured during and after the conflict in Nagorno-Karabakh.
The Czech lawmakers also urged Azerbaijan to refrain from arbitrary detentions in the future, the Armenian Embassy in Prague reports.
The resolution made a reference to a report from Human Rights Watch, which said that Azerbaijani security and armed forces were abusing Armenian prisoners of war, and subjecting them to cruel and degrading treatment and torture, either at the time of their capture, during their transfer or in custody in various prisons.
The MPs urged the parties to the conflict to comply fully with the tripartite ceasefire of November 9, 2020, which provides for the exchange of prisoners of war, hostages and other detainees, as well as the remains of persons killed in the armed conflict.
The Czech parliament also said it considers it essential for Azerbaijan to provide exhaustive lists of all persons held in captivity in the context of the armed conflict and to provide information on their whereabouts and their health, including information on those who have died in captivity;
The lawmakers noted that Azerbaijan should cooperate fully with the European Court of Human Rights on the issue of Armenian prisoners and to comply with the preliminary rulings of the court which ordered Azerbaijan to provide detailed information on the conditions of detention of prisoners, their state of health and measures taken for their return;
So far, more than 70 Armenian PoWs have returned home. Azerbaijani President Ilham Aliyev claims that persons still being kept in Baku are not prisoners of war but "terrorists and saboteurs". Officials and human rights advocates from the Armenian side, however, maintain that Azerbaijan is still holding hundreds of people hostage, pledging to submit evidence proving the capture of said persons to international agencies and courts. At least 19 of the hundreds of Armenian captives have been tortured and killed, according to their lawyers. In addition, six Armenian troops were captured on Armenian soil in late May.