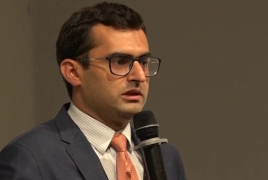 June 11, 2021 - 15:29 AMT
PanARMENIAN.Net - Former Minister of High-Tech Industry Hakob Arshakyan and other members of the Civil Contract party were involved in a scuffle when campaigning in Yerevan's Arabkir district on Thursday, June 10, lawmaker Vahagn Aleksanyan told Sputnik Armenia on Friday.
Media reports claimed that Arshakyan and several of his colleagues were beaten during a clash in Yerevan and taken to hospital, but Aleksanyan said none of them has suffered.
"Hakob Arshakyan and four Civil Contract members were campaigning in Arabkir disctrict. When they approached a gazebo, one of the people sitting there began to curse at the politicians. They tried to calm him down, but at that moment 10 drunk young people intervened and tried to use force,"Aleksanyan said.
The youth were allegedly so drunk that they received injuries when the ex-minister and the party members accompanying him resorted to self-defense, Aleksanyan noted. As a result, some of the attackers were taken to hospital, he said.
"The Civil Contract members continued the election campaign. No one has suffered," Aleksanyan said.
Pastinfo reported, earlier, however, that Arshakyan and his colleagues were the first to use profane language and insult an elderly man who told them to leave the area as no one was allegedly going to vote for them. The former High-Tech Minister and the others ultimately got into a brawl with a group of Arabkir residents who beat the Civil Contract members for insulting the elderly man.
According to the publication, a criminal investigation is underway.