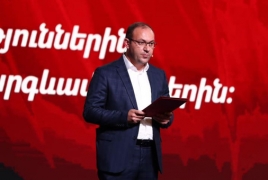 June 14, 2021 - 15:47 AMT
PanARMENIAN.Net - Arsen Babayan from "I Have The Honor" bloc has said a coalition with Hayastan (Armenia) bloc is "real".
Hayastan bloc was formed when the Armenian Revolutionary Federation and and Reborn Armenia joined forces and chose former President Robert Kocharyan as their leader in the elections. "I Have The Honor" bloc, meanwhile, was created by the Republicans and the Homeland party, headed by former chief of the National Security Service Artur Vanetsyan.
Babayan said on Monday, June 14 that their chances of forming a government are high, "as evidenced by numerous polls."
"I am confident that we will take all logical steps to remove these authorities. I consider it realistic to form a coalition with the Hayastan bloc," he told a press conference.
Acting Prime Minister Nikol Pashinyan announced on March 18 that Armenia will hold snap parliamentary elections on June 20. The PM came under fire after signing a statement with the Russian and Azerbaijani Presidents to end the war in Nagorno-Karabakh almost 45 days after the start of the military hostilities. Under the deal, the Armenian side was forced to return all the seven regions surrounding Karabakh, having lost a part of Karabakh itself in hostilities.