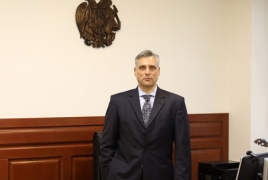 June 16, 2021 - 19:06 AMT
PanARMENIAN.Net - Parag Johannes Bhatt, the Director General of Zangezur Copper Molybdenum Combine, on Wednesday, June 16 dismissed accusations made by Armenia's caretaker Prime Minister Nikol Pashinyan that the company management has warned employees against attending campaign rallies organized by Pashinyan's Civil Contract party.
Pashinyan told supporters a day earlier that the management of the Combine have allegedly threatened to fire employees if they attend his rallies. The Acting PM charged that all the local managers that have shares in the company will lose them in the near future.
"Zangezur Copper and Molybdenum Combine CJSC has always refrained from interfering in political processes or obstructing the expression of political and civic positions of its employees," Bhatt said in a statement,
He described Pashinyan's charges as "baseless", noted that such threats "violate international treaties" and pledged to not give in to provocations or get involved in political debates and processes.
Bhatt also stressed that his company is not going to tolerate "attempts to violate their rights and freedoms" and will submit a report to competent state bodies about said violations. The Director General urged all the parties and blocs participating in the upcoming snap parliamentary elections to "refrain from the temptation to use us for their own political purposes" and spreading misinformation.
Pashinyan announced on March 18 that Armenia will hold snap parliamentary elections on June 20. The PM came under fire after signing a statement with the Russian and Azerbaijani Presidents to end the war in Nagorno-Karabakh almost 45 days after the start of the military hostilities. Under the deal, the Armenian side was forced to return all the seven regions surrounding Karabakh, having lost a part of Karabakh itself in hostilities.