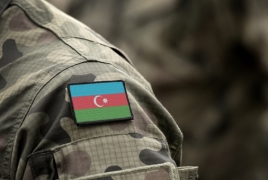 June 22, 2021 - 16:28 AMT
PanARMENIAN.Net - Chief of Army General Staff Artak Davtyan has said that around 1000 Azerbaijani soldiers are still in the territory of Armenia.
Azerbaijani forces violated Armenia's border in several sections in the provinces of Syunik and Gegharkunik on May 12 and 13 and are still refusing to withdraw their troops from the area. One Armenian serviceman was killed in Azerbaijan's shooting on May 25, six troops were captured on May 27, although four of them have already returned home.
Davtyan said the Armenian side is not going to make concessions and expressed hope that all the matters will be settled through negotiations, Aysor.am reports.
"Should the negotiation process fail to tackle all the issues, appropriate decisions will be made," Davtyan said, adding that incidents too have become scarce thanks to negotiations.
According to the Chief of General Staff, the army is ready to resolve the situation militarily but said that's not a desirable scenario, given the Armenian side's losses during the war in fall 2020 and the importance of avoiding new disasters.