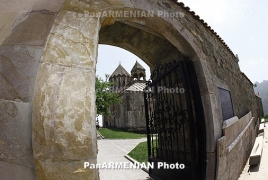 June 23, 2021 - 12:52 AMT
PanARMENIAN.Net - The Museum of the Bible is launching a new online exhibition documenting the sacred sites of Nagorno-Karabakh (Artsakh) on Thursday, June 24, according to information published by the museum.
"Ancient Faith: The Churches of Nagorno-Karabakh" explores the histories of remarkable sites, now threatened by cultural erasure, and introduces some of the people who live and worship there.
The launch of the exhibition includes a virtual panel discussion consisting of esteemed scholars, preservation experts, and church representatives. Topics of discussion will encompass the church sites and architecture, the risks they currently face, and the need to preserve these irreplaceable churches and this material culture.
Amid the conflict in Nagorno-Karabakh, concerns about the preservation of cultural sites are made all the more urgent by the Azerbaijani government's history of systemically destroying indigenous Armenian heritage—acts of both warfare and historical revisionism. The Azerbaijani government has secretly destroyed a striking number of cultural and religious artifacts in the late 20th century. Within Nakhichevan alone, a historically Armenian enclave in Azerbaijan, Azerbaijani forces destroyed at least 89 medieval churches, 5,840 khachkars (Armenian cross stones) and 22,000 historical tombstones between 1997 and 2006.