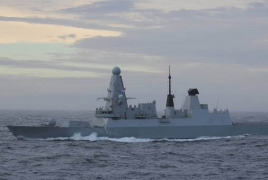 June 23, 2021 - 17:19 AMT
PanARMENIAN.Net - The Russian Defense Ministry said its jets and warships opened warning fire on a British ship on Wednesday, June 23, but the UK's Ministry of Defense denied the claims.
According to the Russian side, the British warship entered Russian territorial waters shortly before noon on Wednesday. A Russian coastguard then allegedly fired two warning shots about a quarter of an hour later.
The UK said, however, that no warning shots have been fired at HMS Defender, an air-defense destroyer.
"The Royal Navy ship is conducting innocent passage through Ukrainian territorial waters in accordance with international law," the UK Ministry of Defence Press Office said in a statement.
"We believe the Russians were undertaking a gunnery exercise in the Black Sea and provided the maritime community with prior-warning of their activity. No shots were directed at HMS Defender and we do not recognise the claim that bombs were dropped in her path."