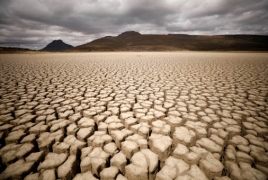 June 24, 2021 - 10:40 AMT
PanARMENIAN.Net - A leaked draft report from the United Nations has painted a distressing picture of how climate change will fundamentally reshape life on Earth in the coming decades, even if humans can tame planet-warming greenhouse gas emissions, Al Jazeera reports.
In what is by far considered the most comprehensive catalogue ever assembled of how climate change is upending the world, the Intergovernmental Panel on Climate Change (IPCC) drafted a 4,000-page document that was seen by AFP news agency on Wednesday.
Species extinction, more widespread disease, unliveable heat, ecosystem collapse, cities menaced by rising seas – these and other devastating climate effects are accelerating and are bound to become painfully obvious before a child born today turns 30, according to the draft report.
"The worst is yet to come, affecting our children's and grandchildren's lives much more than our own," the draft report says.
But the document, designed to influence critical policy decisions, is not scheduled for release until February 2022 – too late for crunch UN summits this year on climate, biodiversity and food systems, some scientists say.
The report warns that previous major climate shocks dramatically altered the environment and wiped out most species, raising the question of whether humanity is sowing the seeds of its own demise.