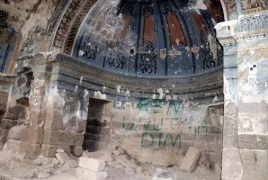 June 24, 2021 - 17:23 AMT
PanARMENIAN.Net - Turkish lawmaker of Armenian descent from the pro-Kurdish People's Democratic Party (HDP) Garo Paylan has raised the destruction by treasure hunters of Surp Toros Armenian Church, which was built in Turkey's Kayseri in the 18th century, Agos reveals.
According to local media reports, a pit about 2 meters deep was dug in one of the halls of the church, whose walls were also spray painted.
Paylan has sent a parliamentary inquiry to Minister of Culture and Tourism Mehmet Nuri Ersoy over the matter, demanding clarifications. The lawmaker said the church is one of the most important historical and cultural buildings in the region, which has been abandoned for decades due to negligence and is again exposed to the attacks of vandals and treasure hunters.
In his letter, Paylan raised the question of why the Turkish Ministry of Culture doesn't protect the Surp Toros Armenian Church in Kayseri and Christian heritage sites in general. He further inquired whether the Ministry has an inventory of Christian buildings in the region and whether it is going to restore the Surp Toros church.
Many Armenian churches and historic heritage sites in Turkey have been neglected or destroyed over the decades. Others have been converted into mosques, cattle sheds and warehouses. A man in Turkey went as far as to organize a barbeque party in the historic Armenian Sourp Asdvadzadzin Church (19th century) in the village of Germuş, 10km northeast of the city of Urfa.