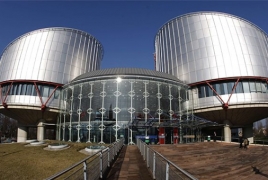 June 28, 2021 - 18:35 AMT
PanARMENIAN.Net - The Representative of Armenia at the European Court of Human Rights (ECHR) on Monday, June 28 issued a statement on the illegal prosecution of Armenian prisoners of war in Azerbaijan, claiming that criminal cases against Armenian PoWs have no legal basis.
"According to information obtained by the Government of Armenia from open public sources at the European Court of Human Rights, the Azerbaijani authorities are currently probing trumped-up criminal cases and prosecuting persons captured as a result of the war unleashed by Azerbaijan on September 27, who are citizens of Armenia and are being kept in captivity to this day, in a clear gross violation of international humanitarian law," the Representative said.
"The Government of Armenia has repeatedly officially stated and now reaffirms its position that persons illegally detained in Azerbaijan are prisoners of war and abducted civilians, who are entitled to the right to freedom and the guarantee of protection established by the Geneva Conventions of 1949."
The office of the representative of Armenia in the ECHR has repeatedly appealed to the European Court with various demands to terminate the criminal prosecution of these persons, ensure their release or other guarantees of their rights.
"However, given that the only urgent measure under the legal mechanisms of the ECHR is the possibility of applying an interim measure under Rule 39 of the Rules of Court, which, unfortunately, is very limited and applies mainly in the case of an irreversible risk of violation of the right to life or non-application of torture, the ECHR refrains from interfering in the criminal prosecution of these persons," the statement added.
Azerbaijan is refusing to return all Armenian prisoners of war, in violation of the statement on the cessation of hostilities signed by the parties in November 2020. The Armenian side has information about some 200 Armenians still in Azerbaijan's captivity, but Azeri President Ilham Aliyev claims that persons being kept in Baku are not PoWs, but "terrorists and saboteurs". At least 19 of the hundreds of Armenian captives have been tortured and killed, according to their lawyers. In addition, six Armenian troops were captured on Armenian soil in late May.