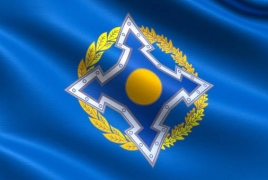 July 7, 2021 - 14:56 AMT
PanARMENIAN.Net - The Parliamentary Assembly of the Collective Security Treaty Organization is planning to establish an institute of partner states, which will have the right to a consultative vote, Chairman of the PA CSTO, Speaker of the Russian State Duma Vyacheslav Volodin said on July 1, RIA Novosti reports.
Azerbaijan and Pakistan are allegedly among the countries interested in the new format.
"It is proposed to consider the establishment of a new partnership institute for the CSTO Parliamentary Assembly. Partners will have the right to consultative votes, participate in the preparation of documents and the development of collective decisions," he said at a meeting of the Council of the organization.
Volodin maintained that a number of countries are interested in cooperation within the CSTO PA.
The head of the Duma Committee on CIS Affairs Leonid Kalashnikov told reporters that many countries are interested in the new format, but named only two of them – Azerbaijan and Pakistan. "As a rule, it is not customary to talk about such things. For example, Pakistan has long wanted to be both an observer and now, perhaps, as a partner," he said, adding that the rights of observers and partners will differ from each other.
The CSTO is a military alliance in Eurasia of which Armenia is a member. Armenia has no diplomatic ties with either Azerbaijan or Pakistan.