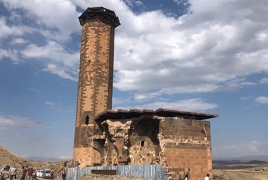 August 5, 2021 - 11:50 AMT
PanARMENIAN.Net - Menuçehr Mosque in Ani – the ruined medieval Armenian city now situated in modern-day Turkey – will open to public on August 16, after a year-long restoration, Hurriyet reports.
The two-story Ebu'l Menuçehr Mosque was constructed by a local manager, Menuçehr, who was appointed by Seljuk Sultan Alparslan after entering Ani in 1064, according to Kars Governor Türker Öküz.
"Apart from restoration, an excavation process is ongoing in the region with a team of 35 experts," the governor said.
Though the mosque underwent a partial restoration between 2008 and 2010, all gaps and holes on the outer structure of the building were not repaired.
After the mosque becomes a closed structure ready for service, a new restoration process will begin inside the mosque after the summer, the official noted.
Between 961 and 1045, Ani was the capital of the Bagratid Armenian kingdom that covered much of present-day Armenia and eastern Turkey. The city is a widely recognized cultural, religious, and national heritage symbol for Armenians.