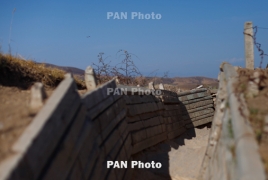 September 8, 2021 - 18:58 AMT
PanARMENIAN.Net - 822 residents of Artsakh (Nagorno-Karabakh), including 742 servicemen and 80 civilians, were killed in the 44-day war unleased by Azerbaijan in fall 2020, Karabakh Human Rights Defender Gegham Stepanyan said on Wednesday, September 8.
Stepanyan, however, urged against separating the fallen soldiers according to their place of residence, Pastinfo reports.
According to the Ombudsman, 65 people from Artsakh, including 45 soldiers and 20 civilians, are still missing, 10 months after the completion of hostilities.
Armenian Prime Minister Nikol Pashinyan, Russian and Azerbaijani Presidents Vladimir Putin and Ilham Aliyev on November 9 signed a statement to end the war in Karabakh after almost 45 days. Under the deal, the Armenian side returned all the seven regions surrounding Nagorno-Karabakh, having lost a part of Karabakh itself in hostilities.