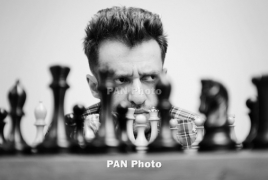 September 10, 2021 - 12:22 AMT
PanARMENIAN.Net - Russian chess grandmaster Garry Kasparov made a much better comeback in St Louis on Thursday, September 9 night, The Guardian reports. In the process, Kasparov defeated Levon Aronian, who is in process of transferring from Armenia to the U.S.
This week's format in the $150,000 Champions Showdown is Chess 9LX, also known as Fischer Random and Chess 960, where the back rank pieces start at random squares and the time limit is 15 minutes for the game plus per move increments, so that the clock plays a lesser role and opening knowledge is irrelevant.
It began promisingly for Kasparov as he drew his first game, and should have won the next against Wesley So, the unofficial world champion at this format who crushed Magnus Carlsen 13.5-2.5 two years ago in Oslo.
The former world champion opted for a cautious style with fixed pawn chains more reminiscent of his old foe Anatoly Karpov than of the sharp attacks that fans used to admire. But in round three nemesis struck, again in the shape of Shakhriyar Mamedyarov, who calmly gained material and was a safe two pawns up when Kasparov resigned.
But a single defeat did not derail Kasparov but spurred him on. In Thursday night's fourth round he won in fine style in 24 moves against the 2018 US champion, Sam Shankland.
Kasparov's round five game reached a level ending in which he outwitted the world No 5, Aronian, and scored by delicate finessing with king, rook and g pawn against king, bishop and f pawn.
Kasparov capped a fine night with a draw against the world No2, Fabiano Caruana, which left him on 3.5/6, shared third place, with Friday's three rounds still to go.