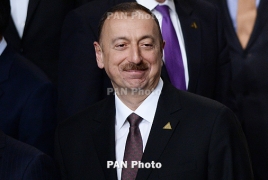 September 24, 2021 - 12:47 AMT
PanARMENIAN.Net - President Ilham Aliyev has revealed that Azerbaijan has already submitted applications to Russia for the acquisition of new weapons and military equipment.
"Naturally, we are now looking at new models, now technical groups are studying new opportunities. We have already submitted certain applications, so cooperation with Russia in this direction will also develop," Aliyev said in an interview with Natsionalnaya Oborona (National Defense) magazine.
He maintained that he enjoys "a very trusting relationship" with Russian President Vladimir Putin: "And, of course, deep mutual respect. Our goals are completely the same."
Azerbaijan launched a large-scale war against Artsakh (Nagorno-Karabakh) almost exactly a year ago – on September 27, 2020. At least 4000 Armenians were killed in the hostilities, tens of thousands were displaced and left homeless. On November 9, the Armenian, Russian and Azerbaijani leaders signed a statement to end the war in Karabakh after almost 45 days. Under the deal, the Armenian side returned all the regions surrounding Nagorno-Karabakh, having lost a part of Karabakh itself in hostilities.