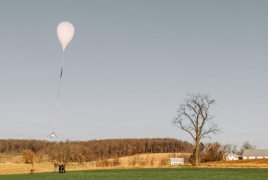 September 24, 2021 - 16:17 AMT
PanARMENIAN.Net - Geospatial data startup Near Space Labs, which is co-founded by Armenian researcher and applied mathematician Rema Matevosyan, has raised a $13 million Series A funding round, which brings its total funding to $16.8 million so far, Forbes reports.
Near Space collects geospatial data through small autonomous robots attached to weather balloons, a contraption it calls "the Swifty," capturing up to 1,000 square kilometers of imagery each flight from more than 18,000 meters up. The process is cheaper—and carries a much lower carbon footprint—than flying a special plane or launching a satellite, Matevosyan says. But its data sets could prove just as valuable to insurers, governments, disaster recovery and autonomous vehicle operators alike.
"We are a very rebellious Earth-imaging company when everyone is launching satellite constellations," Matevosyan says. "Don't get me wrong, they're beautiful devices. But with the rapid adoption of our product and our rapid growth wherever we've deployed, it speaks to the dire need for this data that we are providing."
Now, with more than 150 flights completed, Brooklyn- and Barcelona-based Near Space is looking to hire more than a dozen roles to expand its customer base across the U.S. The startup plans to launch 500 flights in 2022.
The startup operates several business models, sending up Swifty platforms on a contract basis as needed for custom projects, while also launching them regularly from its own launch sites to maintain coverage for a fresh data set of geospatial data. "The idea is that we will have a global constellation of our Swifties, and then people will be subscribing to this data set and using it," says Matevosyan.