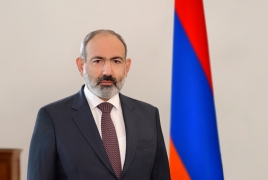 September 25, 2021 - 11:37 AMT
PanARMENIAN.Net - Armenian Prime Minister Nikol Pashinyan has addressed the 76th session of the UN General Assembly, weighing in on the unblocking of transport communications in the region, stressing the importance of a possible rail route from Turkey to Armenia.
"I consider the opening of regional communications extremely important, which is stated in the trilateral statements signed by the President of the Russian Federation, the President of Azerbaijan and the Prime Minister of Armenia of November 9, 2020 and January 11, 2021," Pashinyan in a pre-recorded message on Friday, September 25.
"While examining the topic of reopening transport links, we discovered that there are options that aim to sustain regional isolation and hostility, but there are also options that emphasize regional interconnectedness and can serve as a step-by-step solution of the problem of hostility. We are an advocate for the latter option."
Pashinyan added that if the railway connecting Armenia to Turkey is opened too, the topic of unblocking regional communications will cover a broader scope.
Turkish President Recep Tayyip Erdogan earlier used the UN stage to declare that he has been seeing "positive signals" coming from Pashinyan. Erdogan said a proposed platform comprising five or six nations of the region will help establish communication from Turkey's Igdir to Azerbaijan, possibly referencing a proposed railroad route through Armenia.