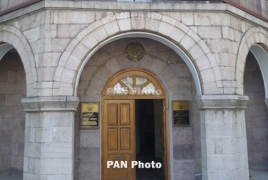 September 27, 2021 - 14:12 AMT
PanARMENIAN.Net - The Foreign Ministry of Artsakh (Nagorno-Karabakh) has shared a statement on the anniversary of the beginning of the war unleashed by Azerbaijan in fall 2020 and said that the people of Artsakh are determined to strengthen and develop their independent and sovereign statehood and to decide their own political future.
"The foreign policy priorities of Artsakh continue to be the international recognition of the independence of the Republic of Artsakh, preservation of its status as a geopolitical subject, de-occupation of the territories of Artsakh, ensuing the continuation of the negotiation process with the full-fledged participation of Artsakh within the framework of the OSCE Minsk Group, development of relations with various countries and structures," the statement reads.
The Karabakh Foreign Ministry ruled out any status within Azerbaijan, which, even after the cessation of hostilities, has not abandoned its blatantly aggressive, anti-Armenian and expansionist policy at the state level, grossly violating all the agreements, norms of international law and principles of humanity.
"To this day a great number of prisoners of war are kept in inhumane conditions in Azerbaijan being subjected to torture and humiliated. Azerbaijan is systematically perpetrating cultural Genocide and destroys the Armenian historical heritage in the occupied territories of Artsakh," the statement says.
September 27 marks the first anniversary of the beginning of the 44-day war unleashed by Azerbaijan against Artsakh (Nagorno-Karabakh) in fall 2020.