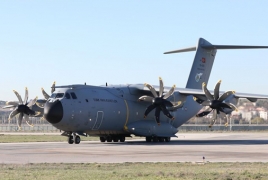 October 6, 2021 - 10:50 AMT
PanARMENIAN.Net - Turkish military transport aircraft have been actively flying to Azerbaijan in the pas few days, just like during the Second Karabakh War.
The movement comes amid mounting tensions between Azerbaijan and Iran.
"It seems that Turkey has finished delivering whatever they delivered to Azerbaijan today. Haven't seen movement like this since the days leading up to (and during) the 2020 Karabakh war," journalist Kyle Glen said on Twitter and shared a screenshot from a real time plane tracking website on Tuesday, October 5.
The screenshot shows five cargo planes of the Turkish air force simultaneously flying to and from Azerbaijan.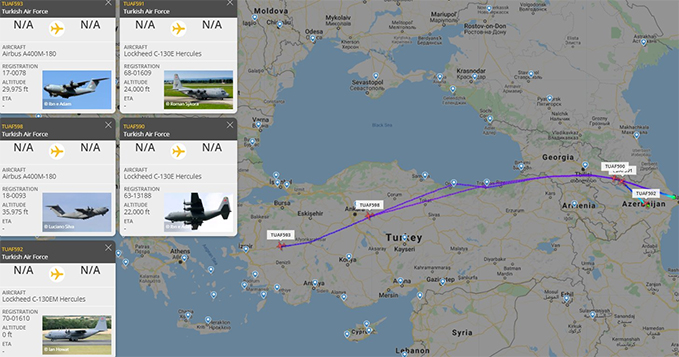 Iranian ground forces began drills near the Azerbaijani border on October 1, a move criticized by Azerbaijani President Ilham Aliyev. But Iranian officials have dismissed Baku's criticism, saying it is their sovereign right to conduct military exercises on their territory. They also said that third-party forces -- a reference to Israel -- are playing a provocative role in the deterioration of Azerbaijani-Iranian relations.