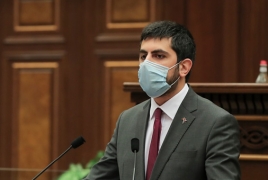 October 28, 2021 - 19:09 AMT
PanARMENIAN.Net - Armenia's proposed amendments in the law on mass media will not violate the principle of source protection, lawmaker Sargis Khandanyan from the ruling Civil Contract party said on Thursday, October 28.
Khandanyan said the matter has been "mostly misunderstood or manipulated", maintaining that the draft proposal does not hinder the protection of sources or compel a journalist to reveal the identity of an anonymous source they used for a story.
The MP cited Article 5 of the country's law on mass media, which says the persons engaged in media activity and journalists shall not be obliged to disclose their sources of information, and said nothing will change there.
On October 19, Artur Hovhannisyan from the Civil Contract party proposed amendments to the Law on Mass Media, that would effectively ban the use of unidentified sources. One of the amendments would make media outlets liable for slander if they cite an unidentified source who is deemed to have defamed or insulted someone.
Minister of Justice Karen Adreasyan said earlier that a journalist would not be obliged to reveal an anonymous source, but they also would not be exempt from liability.