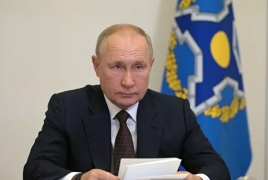 January 10, 2022 - 14:33 AMT
PanARMENIAN.Net - Russian President Vladimir Putin has said the Moscow-led Collective Security Treaty Organization (CSTO) military alliance would only remain in Kazakhstan for a limited time.
He also said the bloc's intervention was a signal that it would not allow any governments in the region to be undermined, Deutsche Welle reports.
Kazakhstan has blamed Islamists for the uprising — the worst episode of violence in the Central Asian nation's post-Soviet history. Government buildings in several cities were briefly captured or set alight after protests escalated last week.
Putin said the deployment of CSTO troops had prevented armed groups from undermining the basis of power in Kazakhstan.
He said deployments from former Soviet countries showed that the alliance would not allow governments in the region to be overthrown.
"The measures taken by the CSTO made it clear that we would not let anyone destabilize the situation at our home and implement so-called color revolution scenarios," Putin said, referring to several revolutions in post-Soviet countries over the past few decades.
Demonstrations in Kazakhstan began just over a week ago in protest at a fuel price rise began. They developed into a wider protest against Tokayev's government and the influence of the former president, 81-year-old Nursultan Nazarbayev.