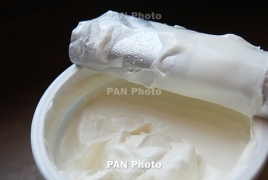 February 8, 2022 - 11:01 AMT
PanARMENIAN.Net - The Armenian dairy product matsun with such labeling cannot be exported to Russia via Georgia since the latter has registered "matsoni" as its geographical indication.
A geographical indication (GI) is a sign used on products that have a specific geographical origin and possess qualities or a reputation that are due to that origin. In order to function as a GI, a sign must identify a product as originating in a given place.
The Armenian Ministry of Economy said on Monday, February 7 that as in the case of cognac and champagne in France, the name "matsoni" is registered in Georgia as a geographical indication, Armenpress reports.
Armenia has informed dairy producers that the name "matsun" sounds similar to "matsoni" registered in Georgia, which may cause problems when exporting products with this name through the territory of Georgia.
"Back in 2011, the intellectual property authorities of Armenia filed an objection against the registration of the name "matsoni" to the relevant bodies of the European Union and Georgia, arguing that this name can be confused with matsun produced in Armenia. However, the objection was not taken into account," said the press secretary of the Minister of Economy, Gayane Antonyan.
Antonyan said, however, that the government is taking steps to clarify with the Georgian side the use of geographical indications.