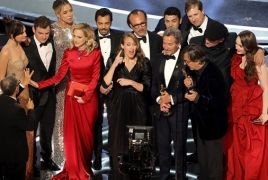 March 28, 2022 - 11:21 AMT
PanARMENIAN.Net - Coda has been named this year's best picture at an Oscars ceremony that featured an unusual confrontation between Will Smith and Chris Rock.
The Apple TV+ drama, bought from 2021's Sundance film festival for a record-breaking $25m, became the first film from a streamer to win the award. It's a remake of French film La Famille Bélier, focusing on the only hearing member of a deaf family, The Guardian reports.
"Thank you to the Academy for letting us make history," said producer Philippe Rousselet. Producer Patrick Wachsberger thanked the Academy for "recognising a movie of love and family in this difficult time".
Troy Kotsur also won best supporting actor for his role in the film, making him the second deaf actor to bring home an Oscar, joining his co-star Marlee Matlin who won for Children of a Lesser God in 1987. "I really want to thank all of the wonderful deaf theatre stages where I was allowed and given the opportunity to develop my craft as an actor," he said in an emotive speech. "This is dedicated to the deaf community, the Coda community and the disabled community. This is our moment."
Sian Heder, Coda's writer-director, also won best adapted screenplay becoming the first woman to bring home the award by herself since Emma Thompson in 1995. Coda has become the first best picture winner with less than four nominations since 1932's Grand Hotel.
Will Smith had the night's most viral moment with Chris Rock after the comedian made a joke about his wife Jada Pinkett Smith's shaved head, saying he was looking forward to GI Jane 2. Pinkett Smith, who revealed last year that she has alopecia, was unamused and an angered Smith then came on to the stage and appeared to slap Rock before the sound muted and footage later showed that Rock said "Will Smith just smacked the shit out of me" before Smith shouted: "Get my wife's name out of your fucking mouth."
Rock tried to defuse the situation by saying it "was a GI Jane joke" before Smith repeated his warning. Scott Feinberg of the Hollywood Reporter tweeted that Smith was then calmed by Denzel Washington and Tyler Perry during the commercial break as he appeared to wipe tears from his eyes.
Smith later secured his first Oscar, winning best actor for playing the father of Venus and Serena Williams in King Richard. "Richard Williams was a fierce defender of his family," he said tearfully. "I know to do what we do, you gotta be able to take abuse, you gotta be able to take people talk crazy about you, in this business, you gotta have people disrespecting you and you gotta smile and pretend that it's okay."
He then recalled advice just given to him by fellow nominee Washington: "At your highest moment, be careful that's when the devil comes for you."
He continued: "I wanna apologise to the Academy, I wanna apologise to all my fellow nominees … art imitates life. I look like the crazy father, just like they said about Richard Williams, but love will make you do crazy things."
"Will Smith said it all, let's have peace and love and quiet," Anthony Hopkins said later onstage.
The award for best director went to Jane Campion for queer psychodrama The Power of the Dog, the only win for a film that had led the pack with the most nominations. She thanked the film's "actors I'm moved to call my friends" and called the win "a lifetime honour".
Jessica Chastain was named best actress for televangelist biopic The Eyes of Tammy Faye, her third nomination and first win. The actor spoke of recent times of "trauma and isolation" and how suicide has affected many, including herself. She paid tribute to LGBTQ+ youth who "feel out of place with their peers" and face "discriminatory and bigoted legislation that is sweeping our country".
The film also won the only other award it was nominated for, best hair and makeup.
Ariana DeBose was named best supporting actress for her performance in Steven Spielberg's remake of West Side Story. She became the first openly queer woman of colour and only the second Latina to ever win an Oscar.
Kenneth Branagh picked up best original screenplay for his semi-autobiographical drama Belfast. "It's a great tribute to an amazing city," he said of the award, his first win from eight nominations.