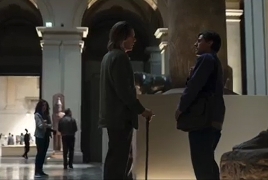 March 31, 2022 - 15:59 AMT
PanARMENIAN.Net - The first episode of Marvel's "Moon Knight", which debuted on Disney+ on March 30, mentions the Armenian Genocide, the Armenian Film Society reports.
Arthur Harrow (Ethan Hawke) is a cult leader who wants to resurrect the Egyptian goddess Ammit so that she can rid the world of "anyone whose heart is impure". In the series, Harrow tells Marc Spector / Moon Knight (Oscar Isaac) how Ammit could have stopped Adolf Hitler and prevented the Armenian Genocide.
The first season is scheduled to run for six episodes until May 4. It is part of Phase Four of the MCU.
On April 24, 1915, a large group of Armenian intellectuals was rounded up and assassinated in Constantinople by the Ottoman government. On April 24, 2022, Armenians worldwide will be commemorating the 107th anniversary of the Genocide which continued until 1923. Some three dozen countries, hundreds of local government bodies and international organizations have so far recognized the killings of 1.5 million Armenians as Genocide. Turkey denies to this day.