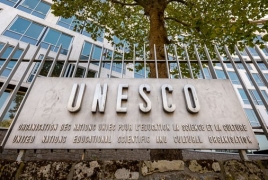 April 5, 2022 - 18:42 AMT
PanARMENIAN.Net - Armenia's Permanent Representative to UNESCO Christian Ter-Stepanian has spoken about Azerbaijan's provocations against the Armenians of Nagorno-Karabakh (Artsakh), which violate the vital rights of the locals, including the children's right to education.
Ter-Stepanian reminded that Azerbaijan refused to eliminate the disruption of gas supply in Karabakh for several weeks, after a pipeline was damaged in areas under Baku's control. The move, he said, caused a real humanitarian catastrophe amid freezing temperatures.
The ambassador also raised Azerbaijan's incursion into Karabakh since March 24 and the constant shelling of civilian settlements and infrastructure, calling on the international community to take measures to prevent escalation in the South Caucasus.
The Armenian envoy then dwelled upon Azerbaijan's blocking of a UNESCO mission for over a year now, which would prove the destruction of the Armenian cultural heritage and other acts of vandalism.
The Ambassador reaffirmed the need to act quickly in the current situation, calling on the Director-General of UNESCO to continue his efforts to send an independent expert mission to Nagorno-Karabakh and the surrounding areas.
Concerns about the preservation of cultural sites in Nagorno-Karabakh are made all the more urgent by the Azerbaijani government's history of systemically destroying indigenous Armenian heritage—acts of both warfare and historical revisionism. The Azerbaijani government has secretly destroyed a striking number of cultural and religious artifacts in the late 20th century. Within Nakhichevan alone, a historically Armenian enclave in Azerbaijan, Azerbaijani forces destroyed at least 89 medieval churches, 5,840 khachkars (Armenian cross stones) and 22,000 historical tombstones between 1997 and 2006.