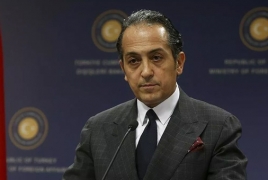 April 24, 2022 - 14:02 AMT
PanARMENIAN.Net - The Turkish Foreign Minister arrived this week to inaugurate his country's embassy in Montevideo, but what was supposed to be a protocol visit almost ended in a diplomatic conflict over a gesture that the official made to a group of Armenians who were protesting his presence in Uruguay, Zyri reports.
Mevlut Cavusoglu, the Turkish foreign minister, made a particular gesture with his hands that is associated with the Turkish ultra-nationalist Gray Wolves movement, as his car drove past a group of Armenian protesters who were waiting for him at the exit of the inauguration of the Turkish embassy in Montevideo.
Given this situation, Uruguayan Foreign Minister Francisco Bustillo decided Saturday, April 23 to summon the Turkish ambassador to Uruguay, Hüseyin Müftüoğlu, to the Estevez Palace for Monday the 25th.
The Armenian Cause Council of Uruguay, an organization that is dedicated to the defense of human rights and the strengthening of Armenia, uploaded to its Twitter account the video showing the gesture of the Turkish Foreign Minister, where it condemned the official's action and described it as "shameful".
They also lamented that the Uruguayan Foreign Ministry "shelters those who claim terrorism."
The incident occured hours before the anniversary of the Armenian Genocide begins, which are set to feature Bustillos as well.
On April 24, 1915, a large group of Armenian intellectuals was rounded up and assassinated in Constantinople by the Ottoman government. On April 24, 2022, Armenians worldwide are commemorating the 107th anniversary of the Genocide which continued until 1923. Some three dozen countries, hundreds of local government bodies and international organizations have so far recognized the killings of 1.5 million Armenians as Genocide. Turkey denies to this day.