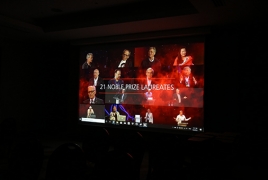 May 6, 2022 - 18:54 AMT
PanARMENIAN.Net - Eight Nobel laureates, including renowned biochemist and molecular physiologist Tim Hunt, will arrive in Armenia to take part in the Starmus Festival to be held in Armenia on September 5-10, co-founder of Starmus, astrophysicist Garik Israelyan has said, Aravot reports.
Israelyan has revealed that Canadian astronaut Chris Hadfield, whose lectures are attended by 10,000-15,000 people will also participate in the festival.
In 2013, while rotating around the Earth, Hadfield recorded a cover of David Bowie's early career hit, "Space Oddity". Four years later, the music video they created and released has been viewed more than 51 million times․
The astrophysicist revealed that famous rock stars will also travel to Armenia, adding that System of Down frontman Serj Tankian and jazz pianist and composer Tigran Hamasyan too will join the event. According to him, SpaceX founder Elon Musk, the original lead singer of Genesis Peter Gabriel are interested in the festival as well.
The festival will be open to universities, and people behind the initiative have programs in Gyumri and other towns, because they want the festival to go beyond Yerevan.
Israelian came with the ide of establishing Starmus in 2005, when he compiled a unique library of acoustic sound waves produced within the bodies of stars. The scientists then joined forces with Dr. Brian May, astrophysicist and legendary guitarist of the band Queen, to create the festival that would bring the stars together with music.