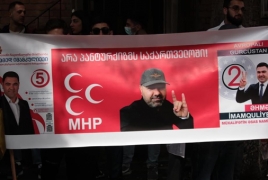 May 7, 2022 - 16:08 AMT
PanARMENIAN.Net - Arsen Karapetyan, an Armenian member of the European Georgia opposition party, has condemned the display of the ultranationalist Gray Wolves symbol by a party member of Azerbaijani descent, Ahmed Imamkuliev, describing the move as "cowardly".
Imamkuliev, who is the head of the party's Marneuli headquarters, posted a photo of himself flashing the Gray Wolves sign on April 24 – the day Armenians worldwide commemorate the anniversary of the Genocide.
The Azerbaijani official's move came after Turkish Foreign Minister Mevlut Cavusoglu made a particular gesture with his hands that is associated with the Turkish ultra-nationalist Gray Wolves movement, as his car drove past a group of Armenian protesters who were waiting for him at the exit of the newly-inaugurated Turkish embassy in Montevideo.
"Knowing Ahmed, I am unpleasantly surprised by his action, to put it mildly, and secondly, I don't think that reproduction of Cavusoglu's behavior can bring dividends to anyone," Karapetyan said in an interview with Aliq Media.
"No one has the right to create an imbalance in Georgia's multinational, tolerant, multicultural environment. Most importantly, such an act on April 24 is not correct, it was very low of both Cavusoglu and his supporters.
After the incident in Montevideo, Uruguay President Luis Lacalle Pou described Cavusoglu's gesture as "regrettable". Foreign Minister Francisco Bustillo joined Lacalle Pou's condemnation called the gesture of his Turkish counterpart "inadmissible" during the 107th anniversary of the Armenian Genocide. Around 10 days after the incident, the Uruguay Senate unanimously agreed to not move forward with the appointment of a new ambassador to Turkey, citing the "embarrassing incidents" caused by Cavusoglu.