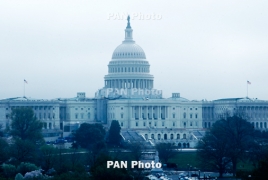 May 17, 2022 - 11:55 AMT
PanARMENIAN.Net - The United States Senate overwhelmingly voted to move toward passage of $40 billion in aid to Ukraine, underscoring the broad Republican and Democratic support for the country as it defends itself against Russia's invasion, Bloomberg reports.
Monday, May 16's 81-11 procedural vote sets up Senate passage of the legislation as soon as Wednesday if all lawmakers consent to waive rules on debate. That would send it to President Joe Biden for his signature if no changes are made.
The package of military and humanitarian assistance has been held up by Senator Rand Paul, a Kentucky Republican. Last Thursday, Senate Majority Leader Chuck Schumer and GOP leader Mitch McConnell, also of Kentucky, made a rare joint offer to allow an amendment vote on language Paul sought. But he wanted the provision, which would have likely failed on the floor, written into the legislation itself.
Paul told reporters that the final vote would probably occur on Thursday.
While Democrats have overwhelmingly backed aid to Ukraine, Paul is among a group of Republicans who have begun pushing back against further assistance because of deficit concerns. When the aid package passed the House last week, 57 GOP lawmakers opposed it. Paul argued the US can't afford the spending.