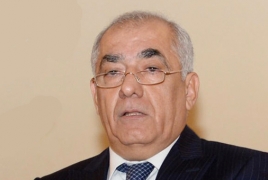 May 21, 2022 - 12:36 AMT
PanARMENIAN.Net - Azerbaijani Prime Minister Ali Asadov has said there is no progress in unblocking economic and transport links in the region despite ongoing meetings within the trilateral working group, Interfax reports.
The Deputy PMs of Armenia, Russia and Azerbaijan first meet in person on January 30, 2021 in Moscow to discuss new transport communications that would link Armenia, Russia and Azerbaijan. New rail and road routes in the South Caucasus are expected to connect the Azerbaijani Autonomous Republic of Nakhichevan with the rest of the country, for which a road will be built through the territory of Armenia. There will also be road and rail routes through the territory of Azerbaijan to connect Armenia to Russia.
Asadov made the remarks at a meeting of the CIS Council of Heads of Government on Friday, May 20.
The Azerbaijani prime minister noted that the opening of transport communications, the creation of an extensive network of transport arteries, including "the Zangezur corridor", is in the interests of the peoples of all countries in the region.
The Azerbaijani side has on multiple occasions raised the question about a "corridor" through the southern Armenian province of Syunik that would connect Nakhijevan to the rest of Azerbaijan. The Armenian side, however, has repeatedly denied being involved in negotiations for the provision of a corridor to Azerbaijan, stressing that they have only agreed to unblock transport communications in the region.