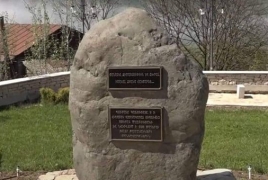 May 23, 2022 - 12:31 AMT
PanARMENIAN.Net - A video posted recently by Telegram user @ararathau shows the destruction of the Park of Teachers in the Nagorno-Karabakh village of Mets Tagher, occupied by Azerbaijan in the days following the Second Karabakh War in fall 2020.
An inscription about the construction of the park in memory of the teachers of Mets Tagher and Sokrat Aghabekyan is gone too.
The 4th article of the 1954 Hague Convention "On the Protection of Cultural Property in the Event of Armed Conflict" prohibits any act of vandalism, theft, robbery or misappropriation of cultural property in any form, and also imposes an absolute ban on any acts of revenge against cultural property.
According to the second protocol of the Hague Convention of 1999, which is also valid during international (ethnic) conflicts, the manifestation of hatred, or revenge against cultural heritage is prohibited, and actions that are regarded under Article 15 as an international crime are also prohibited.
According to the Article 53 of the Geneva First Protocol to the Convention of 12 August 1949 (without violating the provisions of the 1954 Hague Convention), it is prohibited: "Without prejudice to the provisions of the Hague Convention of May 14, 1954, it is prohibited to carry out any hostile action against cultural heritage, to use it for military purposes, or make it a subject of retaliation".
During the recent military hostilities, Azerbaijani forces launched two targeted attacks on the Holy Savior Ghazanchetsots Cathedral in Shushi. Azerbaijan earlier "restored" a church by replacing its Armenian inscription with glass art. Furthermore, Azeri President Ilham Aliyev visited the region of Hadrut in territories occupied by Azerbaijan and declared his intention to "renovate" a 12th century Armenian church, which he claimed to "an Albanian church". Aliyev went so far as to accuse Armenians of leaving "fake inscriptions" in the Armenian language.
Concerns about the preservation of cultural sites in Nagorno-Karabakh are made all the more urgent by the Azerbaijani government's history of systemically destroying indigenous Armenian heritage—acts of both warfare and historical revisionism. The Azerbaijani government has secretly destroyed a striking number of cultural and religious artifacts in the late 20th century. Within Nakhichevan alone, a historically Armenian enclave in Azerbaijan, Azerbaijani forces destroyed at least 89 medieval churches, 5,840 khachkars (Armenian cross stones) and 22,000 historical tombstones between 1997 and 2006.