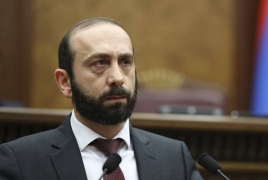 May 28, 2022 - 16:52 AMT
PanARMENIAN.Net - Azerbaijani President Ilham Aliyev admitted the existence of Nagorno-Karabakh in the trilateral statement he signed on November 9, 2020, Armenian Foreign Minister Ararat Mirzoyan said Saturday, May 28.
Mirzoyan's remarks came after Aliyev claimed on May 27 that there is no Nagorno-Karabakh, that the conflict has been resolved, and that there is no OSCE Minsk Group either.
"By signing this document (the trilateral statement- Ed.), the President of Azerbaijan acknowledged the existence of Nagorno-Karabakh and this is an irreversible fact," Mirzoyan said, adding that the OSCE Minsk Group co-chairing countries too have released statement reaffirming their commitment to the peace process.
"The OSCE Minsk Group was not created by Azerbaijan, but by the international community, which means Azerbaijan can't dissolve it or consider its mission over."
The Foreign Minister said Armenia has never had territorial claims against Azerbaijan. The Nagorno-Karabakh conflict, he said, is a matter of law and is perceived by the international community as such.
Mirzoyan also denied Aliyev's statements that Armenia is going to provide a "corridor" to Azerbaijan.
"The existence of any corridor in the territory of Armenia is ruled out. This is not even debatable," he said.
The Azerbaijani side has on multiple occasions raised the question about a "corridor" through the southern Armenian province of Syunik that would connect Nakhijevan to the rest of Azerbaijan. The Armenian side, however, has repeatedly denied being involved in negotiations for the provision of a corridor to Azerbaijan, stressing that they have only agreed to unblock transport communications in the region.