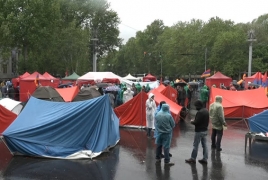 June 15, 2022 - 11:41 AMT
PanARMENIAN.Net - The opposition Resistance movement have removed their tents from the Square of France in downtown Yerevan where they had been gathering in recent months to demand the resignation of Prime Minister Nikol Pashinyan.
Lawmaker from Armenia bloc, member of the Armenian Revolutionary Federation Ishkhan Saghatelyan told protesters on Tuesday, June 14 that the struggle was not over.
According to Saghatelyan, the opposition movement will be rallying very week, with the nearest demonstration scheduled for June 18.
However, family members of people killed in Azerbaijan's war against Nagorno-Karabakh (Artsakh) have not suspended their campaign, moving their tents to the nearby Freedom Square.
In recent months, protesters demanding the resignation of Prime Minister Nikol Pashinyan had taken to the streets to block major roads in the capital Yerevan and call on the population to commit acts of civil disobedience. Pashinian came under fire after he and Azerbaijani President Ilham Aliyev agreed to start drafting a bilateral peace treaty to resolve the Nagorno-Karabakh conflict and set up a joint commission on demarcating the borders.