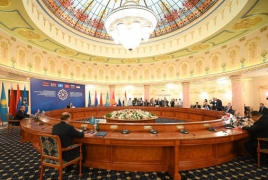 June 17, 2022 - 18:01 AMT
PanARMENIAN.Net - The secretaries of the Security Council of the member states of the Collective Security Treaty Organization analyzed the military-political situation in the world and assessed the situation both in the CSTO area of responsibility and in the surrounding regions, CSTO Secretary General Stanislav Zas said after the meeting, noting that a there's crisis in the global security system.
He noted that the CSTO is taking all necessary measures to strengthen peace and stability in the member states and is ready to defend its interests.
"Ten-year agreements have practically ceased to operate, the level of distrust between a number of leading players is approaching a critical point. At the same time, challenges and threats to security not only have not become less acute, but due to the growth of global uncertainty, they are showing ever more growing trends," Zas said.
According to him, the CSTO's principled position on these issues remains the same: all disagreements and conflicts must be resolved by political means. The organization with this call appeals to all forces.
The meeting of the Committee of Secretaries of the CSTO Security Council was held on June 17 within Armenia's chairmanship in the organization. Armenia has been chairing the CSTO Collective Security Council since September 16, 2021, for a period of one year.