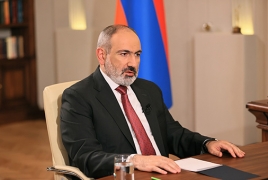 June 28, 2022 - 10:42 AMT
PanARMENIAN.Net - Prime Minister of Armenia Nikol Pashinyan has revealed that there is a "preliminary understanding" that Lachin corridor connecting Armenia to Nagorno-Karabakh (Artsakh) will be changed.
Pashinyan made the demarks during an online press conference organized for the media and non-governmental organizations on Monday, June 27.
He cited the trilateral statement from November 9, 2020, according to which "the Parties have agreed that a plan for the construction of a new route along the Lachin corridor shall be determined within the next three years."
"During this time, we have been holding discussions, preliminary agreements have been reached," the Prime Minister said. "The purpose of this change is to provide a more reliable, stronger and better road connection for Nagorno-Karabakh and Armenia."
Asked what will happen to the residents of Aghavno and Sus communities, which are situated within the current corridor, Pashinyan said: "In case of a change in the route, the territories that are not part of the former Nagorno-Karabakh Autonomous Region will pass under the control of Azerbaijan. The problems of the residents of Aghavno will be solved with the help of the Artsakh government."