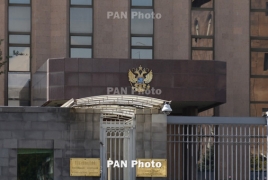 June 29, 2022 - 16:59 AMT
PanARMENIAN.Net - Relatives of the Armenian reservists captured in Nagorno-Karabakh held a protest in front of the Russian embassy in Yerevan on Wednesday, June 29.
They demand steps to ensure the return of their loved ones, maintaining that if if their sons were taken from Russian peacekeepers, then they need to demand their return from the Russian Federation.
On June 28, the parents of the captives from the province o Shirak held a rally in front of the Russian consulate in Gyumri. 5 parents entered the building and met with the Consul of Russia Ruslan Kandaurov, who promised to convey the request of the parents to the Russian Ambassador to Armenia Sergei Kopyrkin.
Armenian Prime Minister Nikol Pashinyan told an online press conference on June 27 that 90% of the prisoners of war being held in Azerbaijan were captured after the entry of Russian peacekeepers and in their area of responsibility. Referring, in particular, to the captives from Shirak, Pashinyan said that according to the November 9 statement, Khtsaberd and Hin Tagher had not been surrendered and "should have been under the control of Russian peacekeepers." He also stated that Baku is trying to discredit the Russian peacekeepers and therefore deliberately does not return the prisoners.