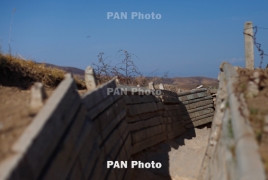 June 29, 2022 - 16:14 AMT
PanARMENIAN.Net - 53 people, including 33 servicemen and 20 civilians, are still missing one a half years after the end of the 44-day war in Nagorno-Karabakh (Artsakh), according to the country's Commission on Prisoners of War, Hostages and Missing Persons, dedicated to the Day of Remembrance of Missing Freedom Fighters
The Commission met on Wednesday, June 29 and said that 1711 remains and bodies were recovered from November 13, 2020 to the first half of 2022.
The chairman of the commission, Minister of Internal Affairs of Artsakh Karen Sargsyan noted that negotiations are underway with the Russian and Azerbaijani sides to resume the search for the bodies and remains of soldiers killed in action.
During the discussions, the members of the commission stressed that Azerbaijan continues to show a non-constructive approach to ensuring the return of Armenian captives from Azerbaijan.
The Second Karabakh war lasted 44 days and ended when Armenian Prime Minister Nikol Pashinyan, Russian and Azerbaijani Presidents Vladimir Putin and Ilham Aliyev signed a ceasefire statement on November 9, 2020. Under the deal, the Armenian side returned all the seven regions surrounding Nagorno-Karabakh, having lost a part of Karabakh itself in hostilities. ‌