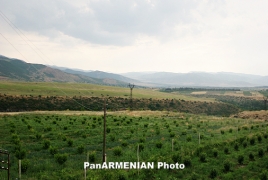 August 1, 2022 - 12:58 AMT
PanARMENIAN.Net - Armenia is a country that is very much characterized by agriculture – but Armenian rural life is marked by a deep crisis, as a study from the Friedrich-Ebert-Stiftung foundation shows.
The research says that the lack of modernisation of agriculture along with the lack of integration into the (neo-) liberal market make it almost impossible for farmers to overcome poverty.
"These are alarming signs, and additionally the identity of farmers is also in crisis. Rural life is unattractive and farmers feel left alone with their problems by the government," authors say.
Projections indicate that the impact of climate change on agriculture in Armenia will lead to:
– An estimated 24% decline in productivity of irrigable lands,
– 4 to 10% reduction of the total area of pastures and their productivity by 2030,
– 7 to 10% reduction in grass yield capacity, which will lead to reductions in the volume of fodder production,
– Deterioration (degradation) of agricultural lands, intensive deterioration of natural pastures,
– Extreme weather accompanied by storms, severe winds, and heavy rains, which will harm the crops and yield capacity reducing it by 8 to 14% by 2030,
– Additional need for irrigation water, which will amount to around 202 million m3,
– Increase of negative impact of plant and animal diseases and pests,
– Food security issues (Assessment of Vulnerability of Agriculture to Climate.
Rural Crisis in Armenia was conducted jointly by researchers from the Yerevan State University and the Armenian National Agrarian University with the support of the Friedrich-Ebert-Stiftung. The study brings new attention to the importance of rural live in Armenia and should initiate a public debate on the precarious livelihoods of farmers, the social polarization and exclusion.