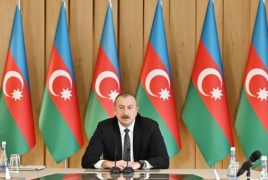 August 13, 2022 - 12:50 AMT
PanARMENIAN.Net - Azerbaijan expects Armenia to provide a route for the "Zangezur corridor" – which would connect Nakhijevan to the rest of Azerbaijan – "in the coming weeks", Azeri President Ilham ALiyev said Friday, August 12, Apa.az reports.
Less than 10 days after a drone attack on Karabakh positions, which left two Armenian soldiers dead and 19 others wounded, Aliyev claimed that he is pro-peace.
"We must start peace talks with Armenia. So far we have not received a positive response, but I hope that we will receive it," he said.
The Azerbaijani side has on multiple occasions spoken about a so-called "corridor" through the southern Armenian province of Syunik that would connect Nakhijevan to the rest of Azerbaijan. The Armenian side, however, has repeatedly denied being involved in negotiations for the provision of a corridor to Azerbaijan, stressing that they have only agreed to unblock transport communications in the region.