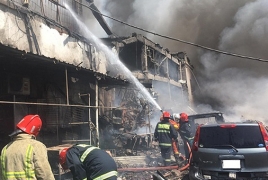 August 15, 2022 - 13:01 AMT
PanARMENIAN.Net - At least six people were killed, more than 60 others were injured and an unknown number of people are feared trapped in rubble after a strong explosion tore through the Surmalu market in Yerevan, Armenia's capital on Sunday, August 14.
A five-year-old child and their pregnant mother were among those missing.
Firefighters labored into the night to put out the blaze after the blast, which reportedly took place at a fireworks storage, while rescue workers and volunteers searched amid still-exploding fireworks for victims who might be trapped under slabs of concrete.
Spokesperson for the Ministry of Emergencies Hayk Kostanyan said on late Sunday evening that 19 people were still missing and noted that the rescue mission would continue to work during the night, which they did.
Dozens of fire engines working on the spot managed to put out the fire at the end of the day.
Prime Minister Nikol Pashinyan visited the scene on Monday. He was accompanied by the Mayor of Yerevan Hrachya Sargsyan, Minister of Emergency Situations Armen Pambukhchyan, director of the MES rescue service Armen Gasparyan, the Head of The Inspection Bodies' Coordination Office Artur Asoyan.
The Prime Minister was briefed on the progress of search and rescue mission and the fire extinguishing works.