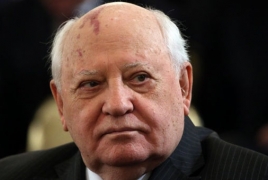 August 31, 2022 - 11:51 AMT
PanARMENIAN.Net - Mikhail Gorbachev, who ended the Cold War and was the last leader of the Soviet Union, has died at the age of 91, Russian news agencies reported, citing medical sources.
"Gorbachev died this evening after a serious and long illness," the Central Clinical Hospital in Moscow said late on Tuesday, August 30, as quoted by the Interfax, TASS and RIA Novosti news agencies.
Gorbachev led the Soviet Union from 1985 until its collapse in 1991.
The dissolution of the Soviet bloc — marked by Gorbachev's resignation that year — ended the Cold War and years of confrontation between East and West, freed Eastern European nations from Soviet domination, and established the modern Russian state.
Gorbachev's death comes six months into Russia's invasion of Ukraine, which has intensified tensions between Moscow and the West.
"[It's] hard to think of a single person who altered the course of history more in a positive direction" than Gorbachev, Michael McFaul, a political analyst and former US ambassador in Moscow, wrote on Twitter. "Gorbachev was an idealist who believed in the power of ideas and individuals. We should learn from his legacy."
US President Joe Biden, who was a member of the Senate Foreign Relations Committee when Gorbachev was in office, described the former leader as a "man of remarkable vision", saying he had the "courage" to "admit that things needed to change" after years of confrontation, Al Jazeera reports.
"As leader of the USSR, he worked with President Reagan to reduce our two countries' nuclear arsenals," Biden said in a statement. "After decades of brutal political repression, he embraced democratic reforms. He believed in glasnost and perestroika – openness and restructuring – not as mere slogans, but as the path forward for the people of the Soviet Union after so many years of isolation and deprivation."