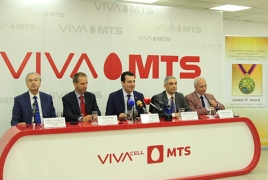 September 8, 2022 - 13:05 AMT
PanARMENIAN.Net - The winner of the State Award of the Republic of Armenia for Global Contribution to Humanity through IT for 2021 is Leon Stok, Vice President of IBM's Electronic Design Automation group.
On September 6, during the award ceremony at the Residence of the President of Armenia, Leon Stok received the well-deserved prize in the high-tech industry. For twelve years in a row, Viva-MTS has been the General Partner of the event.
The scientist, who holds 13 patents for inventions in electronic design automation, visited Viva-MTS to take part in the press conference and to exchange ideas. The press conference was presided by Dr. Leon Stok, Viva-MTS General Director Armen Avetisian, Deputy Minister of High-Tech Industries of Armenia Davit Sahakyan, Director of "Synopsis Armenia", Award Organizational Committee Coordinator Hovik Musayelyan, and the President of "Synopsis Armenia" Yervand Zorian.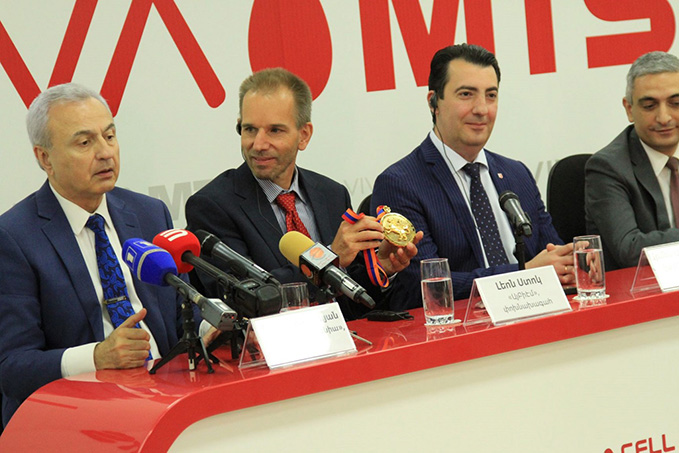 The rich professional biography of Dr. Stok was presented by the President of Synopsis Armenia, Yervand Zorian. Dr. Stok's main contribution is the creation of innovative chips for IBM products, such as the research and development in Automation, Robotics, Artificial intelligence, Cloud computing, Consulting, Block-chain, Computer hardware, Software, Quantum Computing. Those are the competitive advantages of IBM in the markets of cloud technologies, data analysis, mobile, social and security systems. The research and development done by Dr. Stok's team in world-class lines and software tools are used in design and control and are applied in supercomputers such as IBM Z and Power, as well as the design of IBM Quantum systems. "This award ceremony plays an important role in fixing Armenia's clear place on the technological map of the world. The visit of the first persons of such giant companies to Armenia contributes to the promotion of significant investments in our country and the establishment of business partnerships," concluded Zoryan.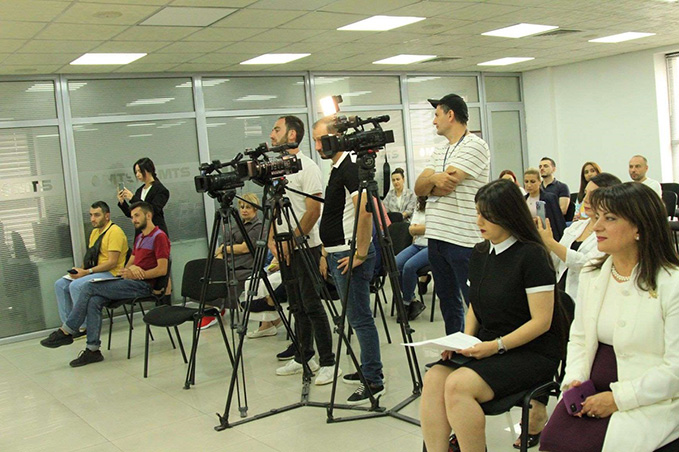 "In our everyday life, we often do not feel that the world we live in, with all its civilizational achievements, owes to the inventions of specific individuals and the popularization of these inventions. Mr. Stock is one of those people. It is no coincidence that the RA State Award partner is a subsidiary of MTS. Telecommunication is a business that can unite, create great opportunities and create demand for applied scientific development, technological and IT solutions, media, business development, human development and facilitating peoples' daily life. For years, Viva-MTS has been and continues to be with the ICT community in presenting the laureates who have made important global contributions to Armenia and strengthening Armenia's role on the ICT map. And also, thanks to this award, many young Armenians are inspired and gain serious motivation along untrodden paths to creating new success stories," Viva-MTS General Director Armen Avetisian said.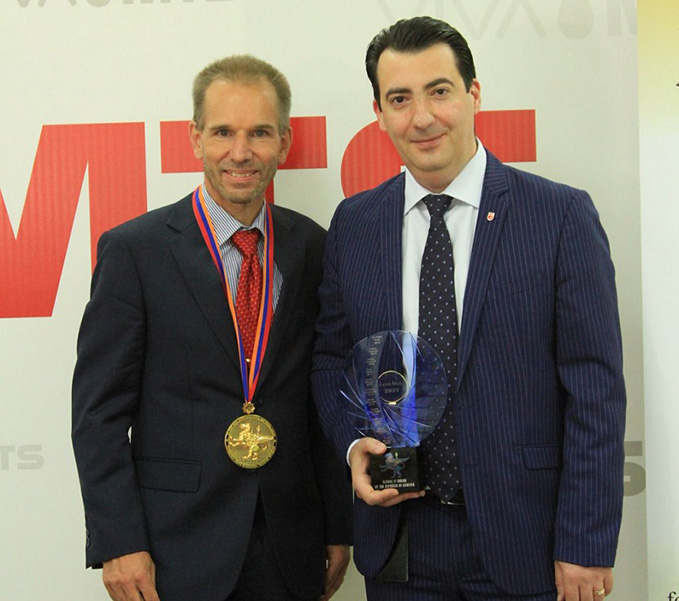 "I am very honored to get this award from the hands of the President of Armenia, and I'm thankful to the Awarding Committee and Selection Panel for selecting me as a Global IT Award laureate. I'm impressed with the talent that I see in Armenia and the excitement that I feel during every meeting. I want to thank Viva-MTS for sponsoring this award and for hosting us today. Telecommunications plays a huge role in today's technological world and I'm excited to see such an advanced company in Armenia. On Monday I visited Synopsys Armenia educational department and I was surprised to find students and the faculty developing three nanometers process design kits. These are some of the most advanced technologies in the world and it's great that students in Armenia are able to provide three nanometer process design kits for the students of the rest of the world to use", - Dr. Leon Stock said.
"I would like to thank you for organizing and implementing the event of the RA State Award for global investment in the IT sector at a high level. It will certainly be a serious stimulus to strengthen and increase Armenia's place and role in the global IT sector. Among other important targets, the award is aimed at creating and spreading the image of an accomplished and successful specialist in the field of ICT among young people. There are a lot of promising young people in Armenia who will be excited by the success of the laureates of this award and will choose ICT as their future profession following their example," said RA Deputy Minister of High-Tech Industry Davit Sahakyan.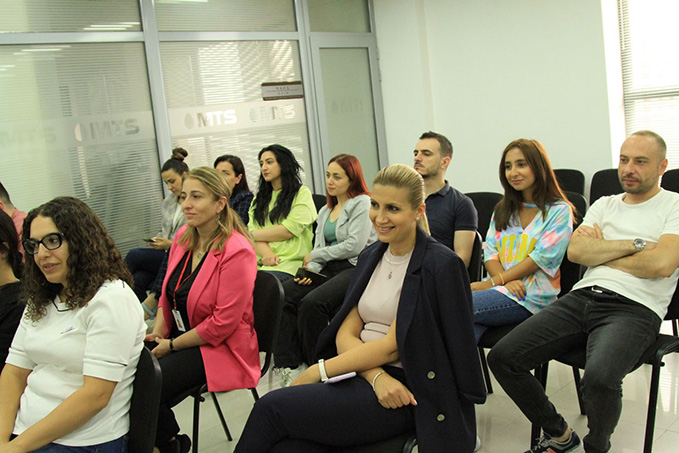 "This award ceremony has an important mission to bring to our country world-renowned legends who made a revolutionary contribution to changing the course of humanity's life and to introduce Armenian youth to their path. It is a learning and interesting experience not only for them, but also for the public of the science-educational technology sector," Director of "Synopsis Armenia" Hovik Musayelyan, coordinating the works of the award committee, said.
Past winners of the State Award of Republic of Armenia for Global Contribution to Humanity through IT are prominent figures as well:
Former CEO of Intel Corporation Craig Barrett (2010)
Co-Founder of Apple Inc. Steve Wozniak (2011)
Chairman Emeritus of Synaptics, Inc. Federico Faggin (2012)
Chairman of the Society of Semiconductor Industry Seniors and Techno Vision Tsugio Makimoto (2013)
Chief Development Officer of Sysco Systems Mario Mazzola (2014)
Chief Executive Officer and Chairman of Kaspersky Lab Eugene Kaspersky (2015)
One of the founding fathers of the Internet and CEO at Open-Root Louis Pouzin (2016)
Founder of Nest Labs, iPod creator Tony Fadell (2017)
Co-founder of the National Instruments Dr. James Truchard (2018)
Synopsys Co-Chief Executive Officer Dr. Chi-Foon Chan (2020)
The main initiators and the organizers of the award are "Synopsys Inc." and its Armenian branch, "Synopsys Armenia".