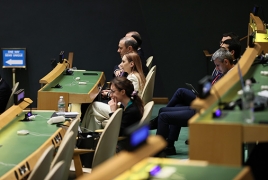 September 23, 2022 - 14:16 AMT
PanARMENIAN.Net - Armenian Prime Minister Nikol Pashinyan believes that Azerbaijan, by demanding an extraterritorial corridor, is seeking to create a new crisis as a pretext for a new aggression against Armenia.
"Azerbaijan is hinting that Armenia has to provide an extraterritorial corridor and according to them the 9th article of the trilateral statement from November 9, 2020 is supposed to do that. The trilateral statement is a public document and in the 9th article there is nothing about corridor, extraterritoriality etc. So what is the purpose of Azerbaijan? To create a new crisis as a pretext for a new aggression against Armenia and for a new territorial claim," Pashinyan told the UN General Assembly on Thursday, September 22.
"We have shared packages of proposals with Azerbaijan on the topic of opening communications, and if Azerbaijan accepts that those routes must operate according to national legislations, we can decide on this very quickly."
The Prime Minister reminded that the trilateral statements from November 9, 2020 and January 11, 2021 imply that not only Armenia should provide roads to Azerbaijan, but Azerbaijan will have to do the same.
"And we haven't received anything so far either," he added.
Pashinyan also noted that only one corridor is mentioned in the November 9 statement, and it is the Lachin corridor connecting Nagorno-Karabakh to Armenia.
The latest round of fighting between the two countries began in the wee hours of September 13, when the Azerbaijani military attacked Armenian posts and shelled Armenian settlements both on the border and deep behind the frontline. At least 207 people are dead or missing as a result, the Security Council of Armenia said on Monday.