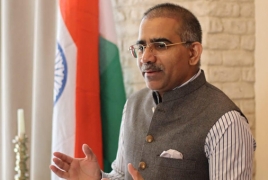 September 30, 2022 - 16:12 AMT
PanARMENIAN.Net - Indian ambassador to Armenia Kishan Dan Dewal has said that he was surprised at reports alleging that his country is going to supply weapons to Armenia, Panorama.am reports.
According to reports from India, the country has signed a significant export order for missiles, rockets and ammunition to Armenia amid Azerbaijan's latest aggression against the sovereign territory of the country. While the value of the contracts has not been revealed, it is estimated that weapons worth over Rs 2,000 crore (apx. $244 million) will be supplied to the country over the coming months.
"I can't comment [on the matter], that news came as a surprise to me," Dewal told reporters on Thursday, September 29, after visiting villages affected by Azerbaijan's recent invasion and occupation .
"My colleagues and I have witnessed the destruction that has taken place. Our position was raised from the outset and was made public during an extraordinary meeting of the UN Security Council, where our representative called on the aggressor to immediately cease hostilities and observe the ceasefire."
The latest round of fighting between the two countries began in the wee hours of September 13, when the Azerbaijani military attacked Armenian posts and shelled Armenian settlements both on the border and deep behind the frontline. More than 200 people are dead or missing as a result, the Security Council of Armenia said on Monday.