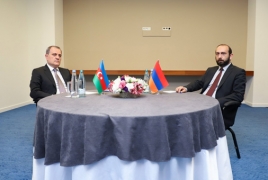 September 30, 2022 - 16:51 AMT
PanARMENIAN.Net - The Foreign Ministers of Armenia and Azerbaijan will meet in Geneva on Sunday, October 2, Armenian Foreign Ministry spokesperson Vahan Hunanyan said.
"Despite the Azerbaijani provocations, the Armenian side will participate in the meeting," Hunanyan said in a statement on Friday.
"Thus, the statements of the Ministry of Foreign Affairs of Azerbaijan that Armenia is attempting to disrupt the negotiations are groundless. Armenia demonstrates a constructive approach in achieving lasting peace in the South Caucasus as before and expects the same from Azerbaijan."
The latest round of fighting between the two countries began in the wee hours of September 13, when the Azerbaijani military attacked Armenian posts and shelled Armenian settlements both on the border and deep behind the frontline. More than 200 people are dead or missing as a result, the Security Council of Armenia said on Monday.